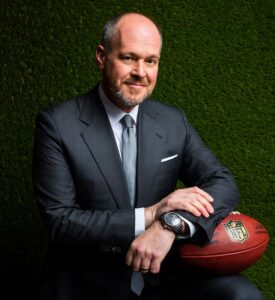 Twitter: @RichEisen, @RichEisenShow
Instagram: @RichEisen, @RichEisenShow
Rich Eisen is the host of the 3-time Emmy-nominated Rich Eisen Show streaming free on The Roku Channel, Audacy, Sirius channel 218, XM channel 202, and numerous radio stations across the country MON-FRI 12PM 3PM ET where Rich displays his engaging blend of football expertise with an offbeat mix of humor and pop culture while attracting the biggest names in sports and entertainment.
Eisen was the first on-air talent added to the NFL Network's roster prior to launch in November 2003 and since 2010 has served as host of the Emmy-nominated NFL GameDay Morning, the most comprehensive NFL pregame show on television.
Eisen also anchors NFL Network's special on-location coverage of the NFL Draft, NFL Scouting Combine, Pro Football Hall of Fame Induction Weekend and Super Bowl.
A five-time Sports Emmy nominee in the Outstanding Studio Host category, Eisen has also served as emcee of the Pro Football Hall of Fame induction ceremony in Canton, OH.
One of television's most visible anchors and personalities from the past decade, Eisen was a mainstay on ESPN's SportsCenter from 1996 to 2003. Outside the world of sports, Eisen served as the host of TNT's first-ever reality competition program "The Great Escape."
Prior to joining ESPN, Eisen worked at KRCR-TV in Redding, California, as a sports anchor (1994-96). His television journalism career includes serving as the Medill News Service's Washington correspondent (1994) and as a production assistant for the CBS Evening News with Dan Rather and Connie Chung in 1994.
In 2007, Eisen penned Total Access: A Journey to the Center of the NFL Universe about his experiences as host for NFL Network. He worked in print journalism as a staff writer for the Staten Island Advance (1990-93) and at the Chicago Tribune covering Chicago public high school football and basketball (1993-94).
Eisen is a graduate of the University of Michigan with a Bachelor of Arts degree in Communications and earned a Master of Science degree in Broadcast Journalism from Northwestern University's Medill School of Journalism in 1994.
Eisen resides in Los Angeles with his wife and long-time ABC, FOX and TNT sports broadcaster Suzy Shuster. Together, they have three children and two rescue dogs.