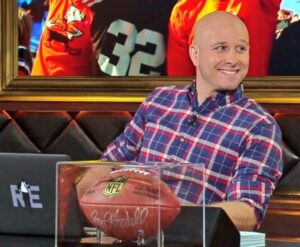 Twitter: @chrisbrockman
Instagram: @brockshady
Chris Brockman never met a shot he didn't like or a throw he thought he couldn't make; irrational confidence might as well be his middle name but his parents weren't the biggest sports fans. That didn't stop Brockman from watching any games he could and recording many others night and day growing up, in fact, he still has a decade worth of Final Fours, NBA Finals and Super. Bowls on VHS stored away somewhere. He'll be the first to remind you about the 3-point shooting record he held at his high school for nearly 20 years, too.
A graduate of Syracuse University, Brockman worked for five years as a newspaper reporter and editor in Maine before moving to Los Angeles in 2009 to work in television production at NFL Network. In 2011, he began working with Rich Eisen on "The Rich Eisen Podcast" as its television producer and even got to attend the 2012 & '13 Oscars Red Carpet as a correspondent alongside Super Bowl champions Hines Ward and Ed Reed. In 2014, he continued his sidekick and on-air producer role as the show evolved into a three-hour daily program and he's been there since.
A loud Patriots, Red Sox and Celtics fan, Brockman lives in Los Angeles with his longtime girlfriend, Sarah, and their golf-obsessed two-year old son Cage.