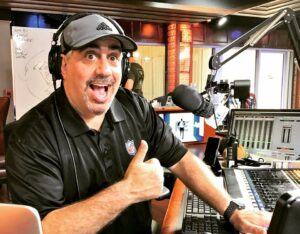 Twitter: @MichaelDelTufo
Instagram: @michaeldeltufo
Michael has been lead sound mixer sound as it comes to productions for almost 30 years while managing all aspects of audio for both sporting events and TV shows... He has been part of the start up of 3 Networks since 1996.
In 1996-Fox Sports Net then in 2003-NFL Network as Senior Audio Engineer and lead sound engineer for the broadcast of all NFL events on location and then again in 2013 with FS1. I've been a lead sound mixer for MLB games,football/basketball,MLS and World Cup soccer,PBC & PPV boxing and golf events. Michael has worked as a lead sound mixer for entertainment and reality shows at the network level on ABC,FOX,NBC and CBS and many more cable companies. Michael has been involved in pre-planning audio and sound at events like the Super Bowl/Stadium, pre and post game shows and post game press conferences and other media events at the Super Bowl for both Fox Sports & the NFL Network.
Michael has been a DJ for 40 years and loves concerts and has seen over 500 in his life. Michael still does the Friday Night Music Show on Mixcloud and Twitter LIVE on select Fridays when he is not busy doing what he loves sitting behind faders being a sound mixer for sports TV events
Famous Quote: "I can't have EVERYTHING ready!"
Common Quote: "You know, I once worked with (fill in the blank)."
More Common Quote: "My bad."